Resumé
For a .PDF version of my resumé, please click here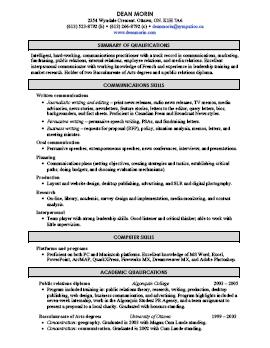 DEAN MORIN
2354 Wyndale Crescent. Ottawa, ON. K1H 7A6
(613) 523-8792 (h) • (613) 266-8792 (c) • deanmorin@sympatico.ca
www.deanmorin.com


SUMMARY OF QUALIFICATIONS
Intelligent, hard-working, communications practitioner with a track record in communications, marketing, fundraising, public relations, internal relations, employee relations, and media relations. Excellent interpersonal communicator with working knowledge of French and experience in leadership training and market research. Holder of two Baccalaureate of Arts degrees and a public relations diploma.

COMMUNICATIONS SKILLS
Written communications
Journalistic writing and editing, print news releases, radio news releases, TV memos, media advisories, news stories, newsletters, feature stories, letters to the editor, query letters, bios, backgrounders, and fact sheets. Proficient in Canadian Press and Broadcast News styles.
Persuasive writing
Persuasive speech writing, PSAs, and fundraising letters.
Business writing
requests for proposal (RFP), policy, situation analysis, memos, letters, and meeting minutes.
Oral communication
Persuasive speeches, extemporaneous speeches, news conferences, interviews, and presentations.
Planning
Communications plans (setting objectives, creating strategies and tactics, establishing critical paths, doing budgets, and choosing evaluation mechanisms).
Production
Layout and website design, desktop publishing, advertising, and SLR and digital photography.
Research
On-line, library, academic, survey design and implementation, media monitoring, and content analysis.
Interpersonal
Team player with strong leadership skills. Good listener and critical thinker; able to work with little supervision.

COMPUTER SKILLS
Platforms and programs
Proficient on both PC and Macintosh platforms. Excellent knowledge of MS Word, Excel, PowerPoint, ArcMAP, QuarkXPress, Fireworks MX, Dreamweaver MX, and Adobe Photoshop.

ACADEMIC QUALIFICATIONS
Public relations diploma, Algonquin College (2003 – 2005)
Program included training in: public relations theory, research, writing, production, desktop publishing, web design, business communication, and advertising. Program highlights included a seven-week internship, work in the Algonquin Student PR Agency, and a team assignment to present a proposal to a local charity. Graduated with honours standing.
Baccalaureate of Arts degrees, University of Ottawa (1999 – 2003)
Concentration: geography. Graduated in 2003 with Magna Cum Laude standing.
Concentration: communication. Graduated in 2002 with Cum Laude standing.

PUBLIC RELATIONS EXPERIENCE
Marketing communications
Manager, Marketing and Communications
Traffic Injury Research Foundation (2005-Present)
Manage and coordinate all communications, marketing, and promotional activities of a national road safety charity. Main responsibility includes the writing and dissemination of written products to internal and external audiences, including: news releases, newsletters, marketing collateral, fundraising packages, memos, staff bios, fundraising letters, list serve messages, and replies to public information requests. Other duties include: performing daily media monitoring, administering a $100,000 fundraising campaign, managing and updating the charity's website, and performing graphic design services. Also perform media relations activities, including: answering media questions, scheduling staff members for interviews, sending out news releases over the wire, and pitching the charity's researchers as expert commentators to the media.

Marketing communications
Marketing Communications Specialist
PCI Geomatics (2005)
This junior position on the marketing team involved planning, assembling, and co-writing the company's strategic marketing plan. Other duties included: writing and editing news releases, competitive intelligence reports, market research reports, and advertisements. Also took part in branding, positioning, and strategic messaging activities.


Internal relations
Vice President
Algonquin College Students' Association (2004-2005)

Vice-chairperson and co-signing officer of a nine-member board of directors that governed a corporation of 14,000 members, with an annual operating budget exceeding $2 million. Main responsibility was liaising with internal and external audiences, including the media. Other duties included: writing news releases, writing policy, planning the board budget, devising new communications plans, and participating in consultation forums. Also served on committees including, the IT management committee, conference committee, and academic council.

Employee relations
Senior Monitor
Opinion Search Inc. (2000-2005)

Call center quality control monitor for market research projects. Main responsibility was writing performance evaluations for interviewers. Other duties included: providing critical feedback, policy and operations training, writing articles for the corporate newsletter, and interpersonal coaching. Also recruited at off-site job fairs and did hiring for the HR department.


Research
Independent Consultant
HMCI - Hayter Marketing Communications Inc. (2001-2003)

Gathered market research, business research, and key stakeholder research. Have worked on, assembled, and written competitive intelligence reports, research reports, and media monitoring reports for the president of HMCI.

AWARDS
President Rosser Prize (2005)
2005 recipient of the President Rosser Prize, one of Algonquin College's top honours given to one graduate each year. The award is given to a student who demonstrates exceptional leadership, involvement in student activities, and maintains a high grade point average.

REFERENCES
Robyn Robertson, president and CEO, Traffic Injury Research Foundation.
(613) 238-5235 ext. 306, robynr@trafficinjuryresearch.com
Jack Doyle, general manager, Algonquin College Students' Association.
(613) 727-4723 ext. 5320, doylej@algonquincollege.com
Laura Hayter, president, HMCI - Hayter Marketing Communications Inc.
(613) 230-4692, lchayter@hmci.ca
Lisa James, national HR coordinator, Opinion Search Inc.
(613) 230-9109 ext. 3104, ljames@opinionsearch.com
Layton Peck, former director of strategic marketing, PCI Geomatics.
(613) 225-6882, layton.peck@rogers.com
Claudine Wilson, public relations professor, Algonquin College.
(613) 727-4723 ext. 5186, wilsonc1@algonquincollege.com